I am back in Manchester and I went to see Manchester City play Sunderland yesterday which was my first football match I have been to since August 2006. Both my brothers failed to turn up, my cousins toilet flooded and he had the plumber there and my dad was at a wedding so I had nobody to go with and no car.
After a few phone calls I managed to avoid having to find my way to the ground using public transport and I was on my way to the match.
I forgot how cold and boring it is sat at the ground waiting for the match to start. I am usually working on my computer and only start watching when they start to line up but once it started I was glad I was there and not in Australia.
My next match is Liverpool at Anfield which I am really looking forward to as it is away from home and I love going to away games as the stand I sit in at home is a bit conservative for my liking. Five goals yesterday and not one pozman from the Colin Bell stand.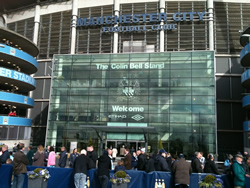 Manchester City Football Club